Hello beautiful.
Recently so many of my Friends and Cousins are getting engaged and married and like every girl I feel I have nothing to wear. And the second I get the news of some ones engagement I start thinking what to wear for all the ceremonies and how to look different from rest. I like to be creative and try different outfits and easily get bored of the regular salwar, anarkali saree and blah. You can totally understand my blues right LOL.
I don't like repeating my clothes for such functions much. Its like I wear a dress for a family function and I am okay wearing the same for my friends's side function :P because the crowd would be different right ;)
Hope most of you feel the same too ;)
So I am starting with a New series under my Fashion Diaries section featuring Some INDO WESTERN options for you all to wear on :
1. For Brides on Your own wedding functions like Engagement, Cocktail, Sangeet, DJ night, Mehendi.And if you are a Marwari Jain then on your "Ghrat paan".
2. When you are a Bride to be and there are loads of functions and parties from both the family sides that you have to attend.
3. For Sisters or Friends of Bride and Groom.
I have picked 7 Saree gowns for you guys to take inspiration.
1. Sonam kapoor in a lime green Saree gown by Sonakshi Raaj.
2. Chitrangada Singh in a Super stylist Saree gown. Doesn't she look hot.
3. Love the Saree cum Lehenga like looking Gown in Orange and Oxblood seen on MischB couture. Would be good for Sangeet if you are a bride. Or for Reception if you are a Sister of Bride /Groom.
4. When you want to keep it simple yet stylish and elegant. Go with something like this from J by Jannat Gold Pre stitched Saree gown available at Pernia's Pop up shop for INR 34,000.
5. Jazz up your style quotient with this Saree - Lehenga - Gown found at kalkifashion.com in different shades of pink and coral peach paired with a contrasting navy blouse. Looks like a Saree cum Gown cum Lehenga. Love the colors. Would make a Great Engagement Outfit.
6. To keep it single and Elegant Go with black and Gold like this one here worn by Shilpa Shetty.
7. This red Saree gown is perfect for a Understated sexy look seen on Shilpa shetty. Look at her physique ma(h)n....!!!
What accesorize to pair it with?
1. Well If your Saree gown is understated accessorize well and throw on some jewellery. Focus should mainly be on great Earrings or Ear Cuffs and Cocktail ring is a must.
2. Wear handcuffs or Single finger wrist bracelet.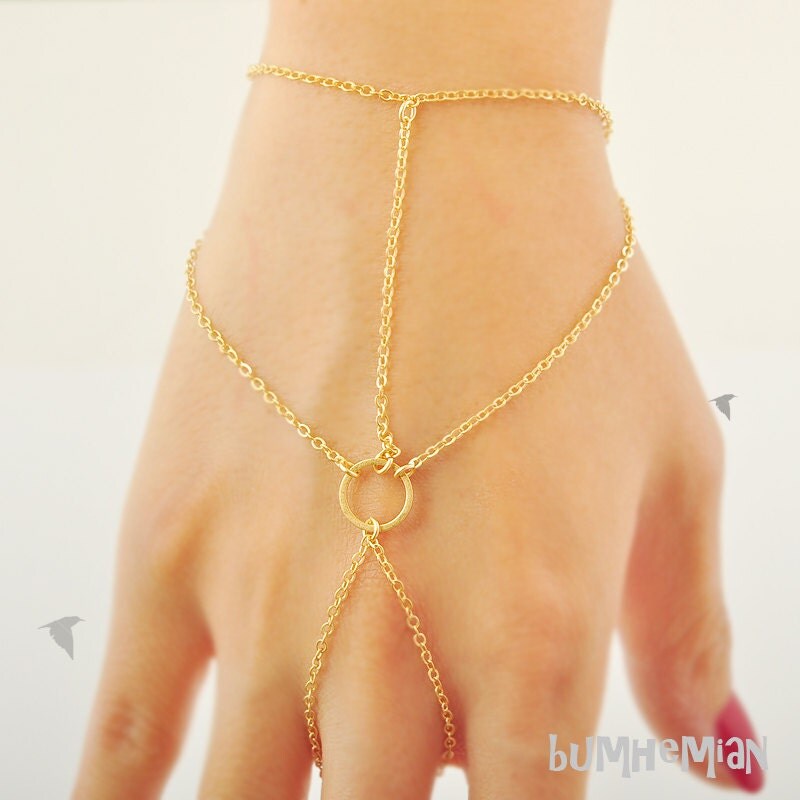 Found on Etsy
3.You can Also add a Maang tikka if you are going for a saree cum lehenga gown.
4. Just make sure you do not go overboard with Jewellery. Just keep it Chic.
So how do you like this series? I am all set to do full on Fashion posts just like my Manicure posts. Do you like and find it interesting? Let me know which Saree gown is your favourite in the comments down below.
Disclaimer : I do not own any of the pictures in the post. All images taken from the mentioned source above.
Love,
Priyanka.